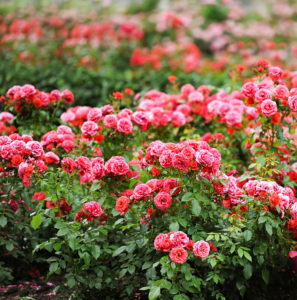 Choosing between different types of roses can be quite intimidating especially if you are a beginner in rose gardening – there are dozens of rose types. Let us start by talking about whether you should plant potted or bare root roses. Potted roses, as the name suggests, are roses that are already growing in a pot. You can choose to go this way if you don't have a lot of space but the best roses if you want big, lush blooms are bare roses. These look like twigs when you plant them but they are better because they don't have leaves that will take away nutrition. By the time summer comes around they will produce great looking blooms.
You can choose to plant old roses or hybrid roses. Old roses have been around since 1867 and are pure breeds. They tend to only boom at the beginning of summer but they have one major advantage – they are more fragrant than hybrid roses. Examples of old roses include Lady Banks, Green Rose and Rose de Recht.
Hybrid roses, on the other hand, are rose plants that are grown by combining several old rose types. The main advantage of these roses is that they are hardy – they are resistant to pests, they bloom for longer and more often than old roses. They are more common than old roses because they are easier to grow for commercial purposes – the roses that you see in the flower shop are most likely hybrid roses. Examples include Floribunda, Grandiflora and the hybrid tea rose.
There is another type of rose called a wild rose. It grows in the wild and it doesn't need any care from humans in order to survive. As you can imagine they are very hardy and they bloom only once a year. They also have blooms in a variety of colors.
A fun type of rose to have if you choose to go with potted roses are miniature roses. They don't grow more than 3 feet tall and they can survive quite well indoors. The various species include Kristin, Magic Carousel and Child's Play.
Climbing roses are an interesting choice if you have a yard. All you need are trellises – the roses have long stems that will climb along the trellis giving your yard a beautiful look especially in summer.
Now that you know the different types of roses you can go ahead and start your rose garden.